Remember the short moustache?  Probably not.  It probably went out of style before you were born.  Charlie Chaplin had one.  Hitler ruined that for the rest of us.  What a dick.
What about the swastika?  It means harmony with nature.  But who's used it since Hitler did?   Nazis, that's who.  What a dick.
Every debate on the internet, these days, ends with some ridiculous comparison to Hitler.  That's, of course, how you know you lost.  When you're comparing someone to Hitler.  I was just reading a debate about whether or not he was a hero, and I had to stop because both posters were morons.  I know, at some point near the end, one of them would have compared Hitler to Hitler.  Derailing every internet discussion.  What a dick.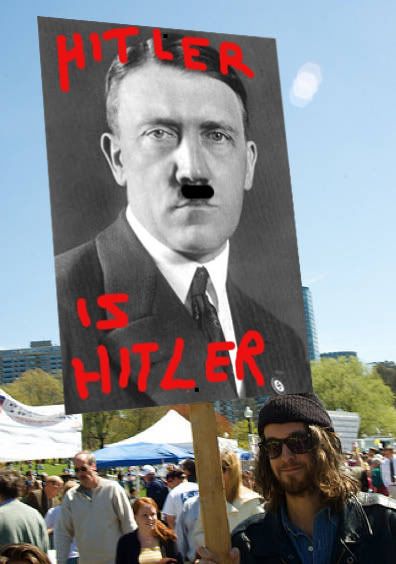 He was the test case for proving debates and elections can be won with charisma, and actual ideas in leadership are irrelevant.  Something that is a world standard in elections today.  Possibly why nearly every politician has been compared to him in some way or another.  What a dick.
You ever see that video cut  from the old World War II film?  Somebody probably changed the subtitles into some internet meme.  Don't come up with original ideas.  Use the overused Hitler film footage.  That wouldn't be possible if it weren't for Hitler.  What a dick.
Nevermind the holocaust.  Hitler has ruined so many more important things like style, decorations, debate, politics, and comedy.  This is the kind of thing that makes me want to kill myself, but you know who else killed himself?  Hitler.  I can't do that.  I'd be a dick.